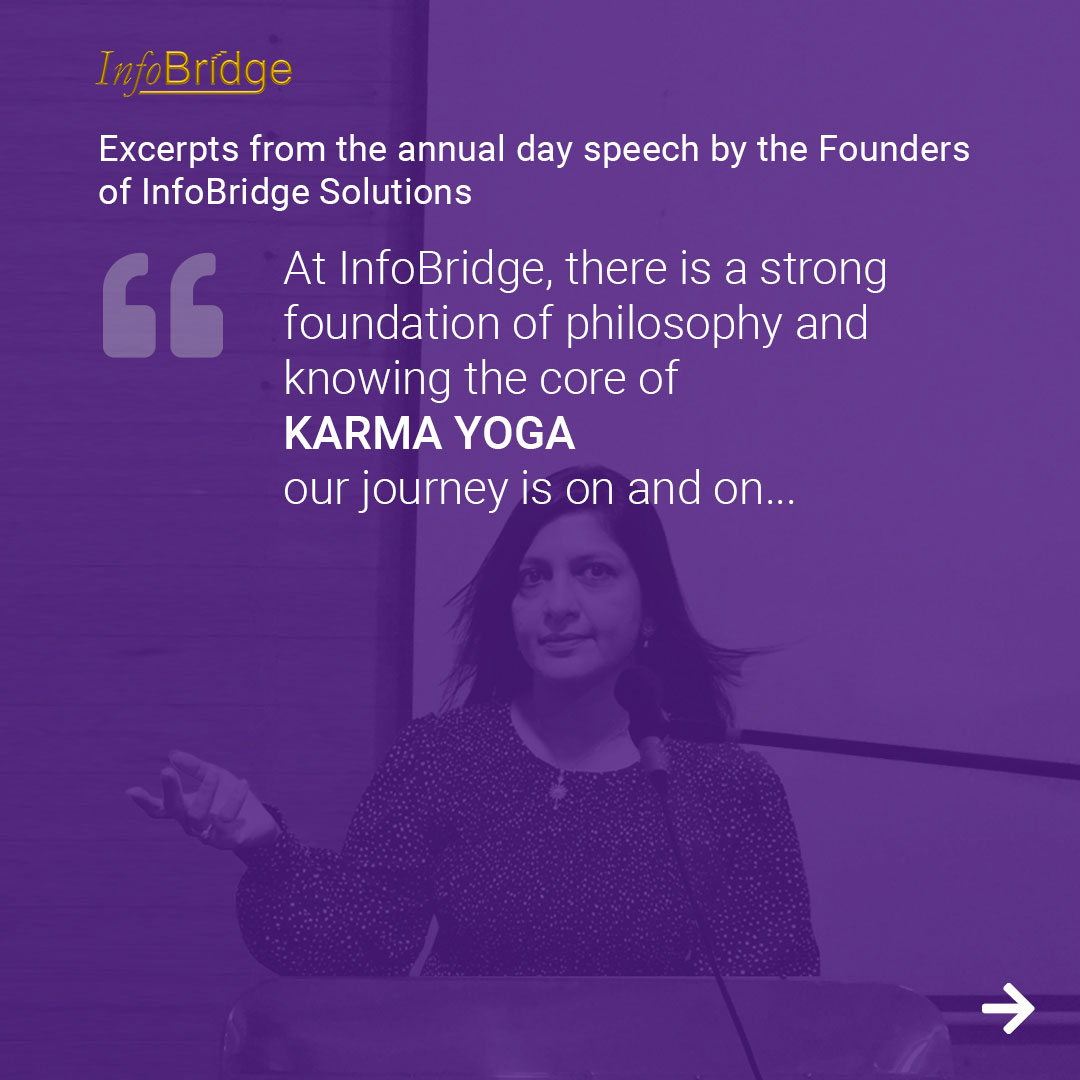 Excerpts from the annual day speech by the Founders of InfoBridge Solutions -
Today we have completed 19 years and stepping into the 20th year, its a beautiful journey.
Here is a hand folded Namaste to express our deepest gratitude to all the associates, employees, clients, advisors and well wishers.
What you experience here which is rare… the answer is RESPECT!
Everyone is treated equally as important stakeholders of the company.
You are the extended family of InfoBridgians!!!
We never laid off any employee even during the difficult times. Last 19 years, we have witnessed several ups and downs.
There is a peace of mind, stability and growth.
We are probably one of the rarest companies in the world that works without ANY marketing department.
There's is a trust and reputation that we have earned for so many years.
We have been developing a diverse variety of world-class innovative technologies at InfoBridge.
Most of our clients and associates have been there working with us since 2003 and 2004 which is our biggest strength. There is no history of any kind of litigation.
We have been fortunate enough to get opportunities working on latest technologies.
Completing so many years in such a dynamically changing and evolving IT industry is not a joke and today we have gathered here to celebrate our success.
At InfoBridge, there is a strong foundation of philosophy and knowing the core of KARMA YOGA our journey is on and on.
Congratulations, everyone. Wishing you all the best and hoping that we will be together enjoying many more years full of success and prosperity. Thank you, again!
-- KANCHAN GAURI GUPTA, Founder and CEO