Infobridge Solutions Pvt. Ltd.
June 2013: FOUNDATION DAY CELEBRATIONS: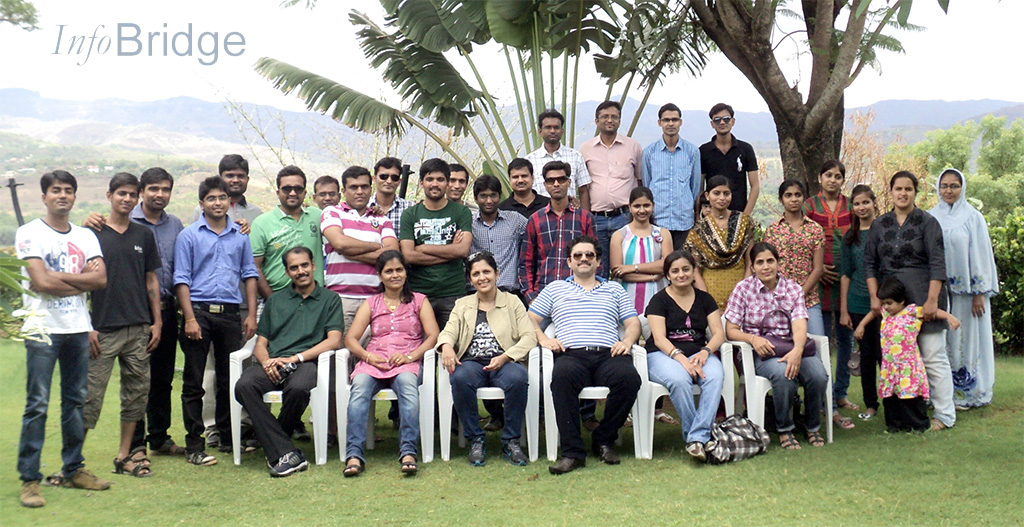 What a wonderful day it was!!!!. It was a pleasant Sunny Morning, 8th June 2013. We all Infobridgians were very excited as the day begun. The enthusiasm was so high that we were eager to reach the venue – SPLENDOUR COUNTRY RESORTS – and start enjoying.
Venue was wonderful giving a scenic beauty of nature with Khadakwasla Backwaters adding more shine to nature. We reached the venue sharp by 10:30 AM and had an enjoyable tour of the venue regarding various activities.
The day began with a wonderful cricket match between Infobridgians. What an excited match. Mumbai Indians Vs. Chennai Super Kings. MI scored 5 overs, 9 runs. Chennai Super kings took the IPL revenge by making 10 runs in just 4 .2 overs, leaving Mumbai Indians Dazzling.
Post which, we were thrilled playing indoor games as in Table Tennis, Pool, Carrom Board etc. People were so much engrossed in these fun games that they forgot everything else. We had a good Pool Match between Aliasgar and Anant, which Anant one. Brilliant performance. Table tennis match was also played between Aliasgar and Shrinivas, which fortunately Aliasgar won. Hard fought battle from Shrinivas, but lost at the end.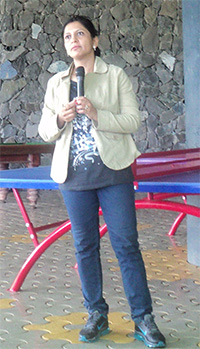 Celebrations began at 12:30 PM by a welcome and memorable speech from our Honorable CEO, Mrs. Kanchan Gauri. She explained us how this company was started and where are we today after a lot of hard work, determination, passion, perseverance and courage to do things and move forward.

Speech was followed by another excellent speech from our CTO (Mr. Rajan Gupta) expressing his views about the company. Post which various people as in Mr. Sunil Ijantkar (Creative Head), Mrs. Minal J. (Head – Accounts) and Mrs. Roopa Mirajkar (Customer Service Manager) expressed their views about the organization and their experiences related to this wonderful company.

The platform was then open for everyone to come forward and express their views regarding working for such a wonderful company, named Infobridge Solutions Pvt. Ltd. Most of the Employees as in Priyu Sir, Chetan Sir, Pankaj Sir, Sachin, Anant, Shrinivas, Sandeep, Nitin, Pravin, Yogesh, Ashish, etc. and many more with enthusiasm came forward expressing their views and solidarity towards the organization.

Now what?? It was time for "FISHPOND Announcements". We laughed till our stomachs pained on some funny and hilarious Fishpond one liners, jokes, pranks etc. which employees wrote about one another. It was one of the most enjoyable moments.

Shrikant Wagh came forward and sang a song, famous one "Yeah Ganesh Yeah Ganesh" to which audience responded with none other but only laughter. Wow, what a song it was.!!!

Session ended at 1:30 PM. It was lunch time. Time to eat delicacies as in Veg Pulao, Chinese Soup, Gulabjamun, Aamras and much more.
Post lunch fun session again began at 3:00 PM and guess what?? It was time to play Housie. People were excited as there were cash prizes regarding the same. As the numbers were called, excitement was getting more. Fastest 5, 1st row, 2nd row, 3rd row, 1st winner Full Housie, 2nd winner Full Housie and 3rd Winner Full Housie were announced.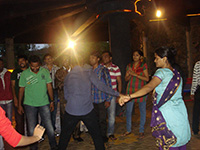 Now, it was time to get splashed in swimming pool and rain dance an event which every Infobridgian was looking forward to enjoy at best of their potential. It was 4:00 PM and within no time everybody jumped in pool as though there were mangoes dropping from tree.

Wow!!! What a time it was. Playing hand ball. Having rain dance, enjoying Jacuzzi. Great time.

Snacks were served at 5:30 PM to which everyone thronged, after swimming enthusiasm.

Now the peak of the event reached at 6:30 PM when Infobridgians danced to fullest of their abilities. Unforgettable moment. People dancing and enjoying at full to DJ`s music with no sign of tiredness.
Day came to an end at 8:00 PM when it was announced CELEBRATIONS END - PARTY IS OVER GUYS, TIME TO PACK UP. It was a heart rendering moment. Tears rolled down employee's eyes as they could not believe such a wonderful day came to an end.
We all Infobridgians, left the venue with Happy Memories which will be cherished in our minds forever.